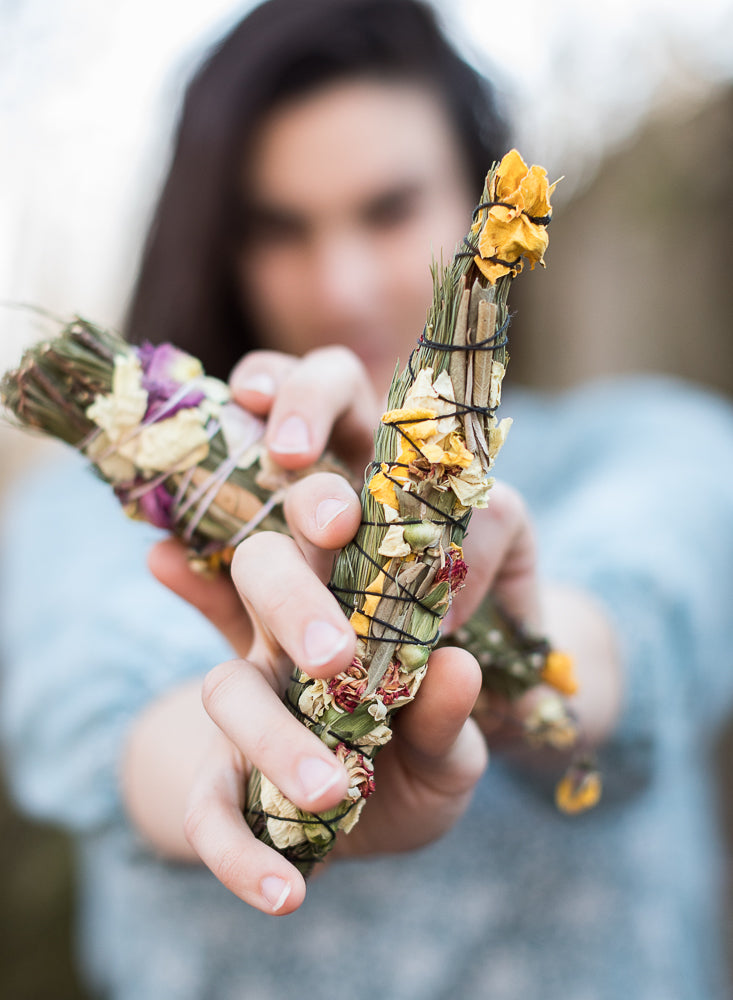 Glam Gardener NYC offers organic and wild-foraged herbal products, art, and education under one roof.
We created wild-harvested smudge wraps, because we wanted to offer an ethical, handmade, wild-harvested, and sustainable option for those that use smudging in their practice.
This article is part of our Foraging Blog, which hosts a compilation of online resources, articles, and videos made for both seasoned nature lovers & beginners alike.
Shop All
What is smudging?
A smudge wrap is a bundle of dried plants wrapped in twine. Smudging
is the practice of burning plants--like incense--for the purpose of meditation,
ceremony, or leisure. Most people are familiar with burning white sage to clear
negative energy.
You light a smudge wrap on fire for a moment, then allow the
smokey aroma to fill the room as you set an intention, meditate, and clear the
energy of the room you are in.
Cultural Beliefs
Burning plants ceremonially to release their aroma was
practiced in largely every culture across the world. You may even consider a campfire
a form of smudging and meditation. We use the wood of pine, oak, and beech to
share, sing, and gather as a community.
Some cultures hold the beliefs that various plants are
associated with certain esoteric qualities. Thus, if you come across a Juniper
smudge from the Red Cedar tree, you may notice that it's labeled as a plant
that brings positivity. Sage is often associated with clearing negativity, and
pine is believed to symbolize peace, unity, and eternal life. But, how do we
assign these qualities to plants?
Perhaps since pines grow on every continent on this planet and
it's something we can all recognize, it unifies us. This is a tree that likely
many of our ancestors worked with, wherever our roots lie. Perhaps
pine's eternal qualities stem from its needles retaining throughout the year.
Unlike oak or maple trees, which drop their leaves in the winter.
Based on the culture these traditions derive from, the significance
of plants and their meanings can go much deeper, and it's worth researching if you're
infatuated with a specific plant. Maybe it means something! We believe that the
existence of modern-day smudging is based on a mix of science, historical
traditions, and personal spiritual beliefs and practices. It's a great pathway to
exploring meditation, self-care, spirituality, and reconnection-to-nature.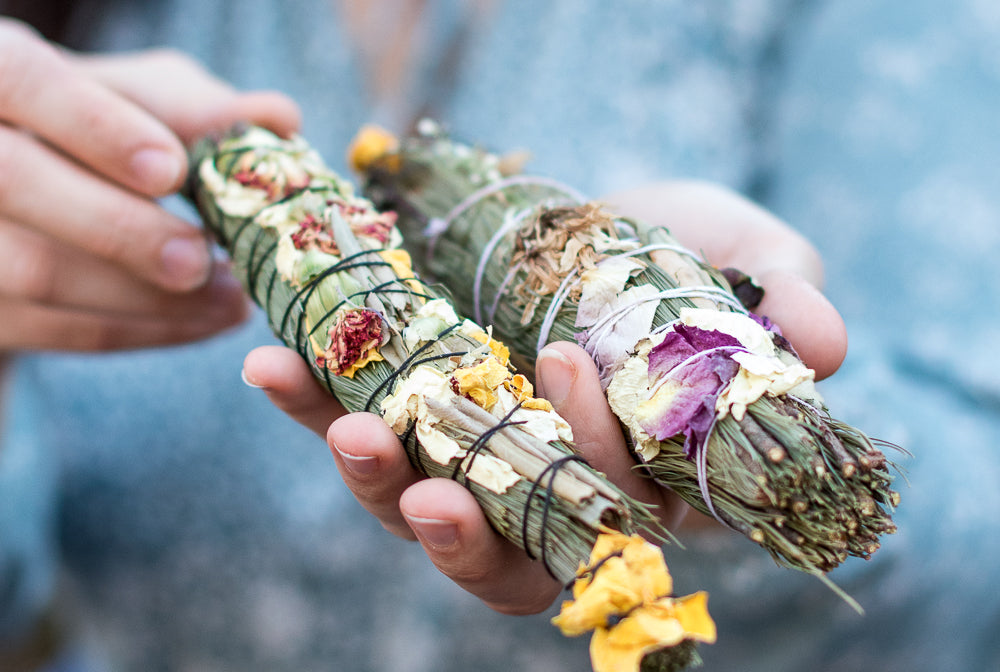 What's in Glam Gardener NYC wild-harvested smudge wraps?
We use pine mugwort, mullein and add other aromatic plants in
each bundle depending on their seasonal availability. Sometimes we harvest
juniper while it's showcasing its bright blue berries, wisteria flowers to
celebrate the pastel purples of early spring, and goldenrod to call in the
colors of autumn.
Nearly all of the plants included in our bundles are
wild-harvested in the northeastern region of the United States from abundant or
invasive plants. Some flowers that we use in our wraps are homegrown or sourced
from local farmer's markets. Then, we wrap our bundles in organic hemp twine so
they're safe to burn.
Did you know?
Did you know that cotton is the traditional fiber used in twine for smudge wraps but we use hemp because it's much more sustainable.

For example, cotton requires 2 to 5 times as much water to grow than hemp. Plus,
unless it's organic cotton, the fiber likely contains loads of pesticides and
herbicides. For example, every nine ounces of cotton—the amount in an
average T-shirt—cotton growers use an average of 17 teaspoons of chemical
fertilizers and nearly a teaspoon of active ingredients, including pesticides, herbicides, insecticides, and
defoliants. Yikes!
That's why when we use cotton in our threads, we use 100% organic, and we switched to hemp altogether for our smudge wraps. If you buy smudge wraps elsewhere, ensure that they're using organic twine.
We created wild-harvested smudge wraps, because we wanted to offer an ethical, handmade, wild-harvested, and sustainable optionfor those that use smudging in their practice.
We created wild-harvested smudge wraps, because we wanted to offer an ethical, handmade, wild-harvested, and sustainable option for those
that use smudging in their practice. The sad truth is that smudging on a mass
scale can have an ugly downside.
Arguably, the most popular smudge wrap available is made from white sage. White sage is a beautiful plant that grows in deserts across the United
States and Mexico. Today, it's often overharvested to meet the demand of the international market, landing it on The United Plant Savers' list of at-risk species.
When we harvest any wild plant, whether it's white sage, St.
John's wort, or Paw paws, at a mass scale faster than the environment can re-grow
it, we have a sustainability problem.
Luckily, there are a few solutions. If you feel called to
smudge with white sage, we recommend that you source your bundles from Native
and sustainable suppliers that are using regenerative harvesting practices to protect
this plant's population. Or you can try smudging with the plethora of aromatic,
abundant, and spiritually significant plants that are out there in this world.
Our smudge wraps are never crafted with white sage or
endangered plants. They are designed to be a white sage replacement, born out
of awareness of the many problems with overharvesting white sage.
What do Glam Gardener NYC smudge wraps smell
like?
Expect a pleasant woodsy aroma dominated by the pine base. Unlike
white sage, our bundles are not hyper-flammable. So, they will start to lose their
flame within 20 seconds, making them safe to use indoors at home.
When the ends of the wrap get crispy from being ignited, just
use a scissor to snip off any blackened parts. Your smudge wrap should last you
many months since they burn very slowly.
So, are you convinced?
If you're ready to make the switch to wild-harvested smudge wraps, you're in the right place. Check out our bundle and if you choose to make it yours, let us know what you think of it.
wild-harvested cleansing bundles (white sage replacement)
Regular price
Sale price
$15.00 USD
Unit price
per
Sale
Sold out
Share
View full details