Regular price
Sale price
$15.00 USD
Unit price
per
Sale
Sold out
2 oz. salve
Handcrafted in New York with local and organic ingredients
Ingredients: Organic olive oil, Organic vegan candelilla wax (alternative to beeswax), Organic hyacinth absolute oil
Hyacinth Blooms by Glam Gardener NYC is a scented salve intended to be applied as a natural solid perfume or healing lotion, that will make you smell like a pleasant Spring day.
This scent is inspired the beloved hyacinth flower. Hyacinth is one of the first flowers to emerge in Spring after a harsh winter. This flower has inspired perfume makers with its intoxicating smell for centuries.
Hyacinth is used in aromatherapy for inducing calming, aiding with forgiveness, and inspiring creativity. Hyacinths are also often associated with rebirth.
We use organic olive oil and organic candelilla wax (alternative to beeswax) in this blend to sooth the skin without clogging it. 
How do you use scented salves by Glam Gardener NYC? Apply a small amount to the favorite parts of your body. We like to use it as hand lotion and apply to our chest, arms, and temples. This salve is not intended to be applied to cuts or wounds.
Why choose scented salves by Glam Gardener NYC? Most perfumes and scented lotions are plain old nasty. They often contain harmful ingredients, unpronounceable chemicals, and substances that disrupt our body's natural processes. Glam Gardener NYC scented salves contain 100% natural ingredients that are often organic and locally sourced. Smell good, without the bad stuff.
Glam Gardener NYC offers free shipping on stickers, cards, and all orders over $50.
Share
Shipping

Orders are fulfilled through USPS. Please allow for standard shipping time, which is usually 1-5 business days.
Return policy

Glam Gardener NYC takes the upmost care in packaging your orders with love. If there is something wrong with your order, please email glamgardenernyc [at] gmail.com so that I can get to the bottom of the issue. Glam Gardener NYC is a one-woman shop, so your kindness and patience is appreciated.
View full details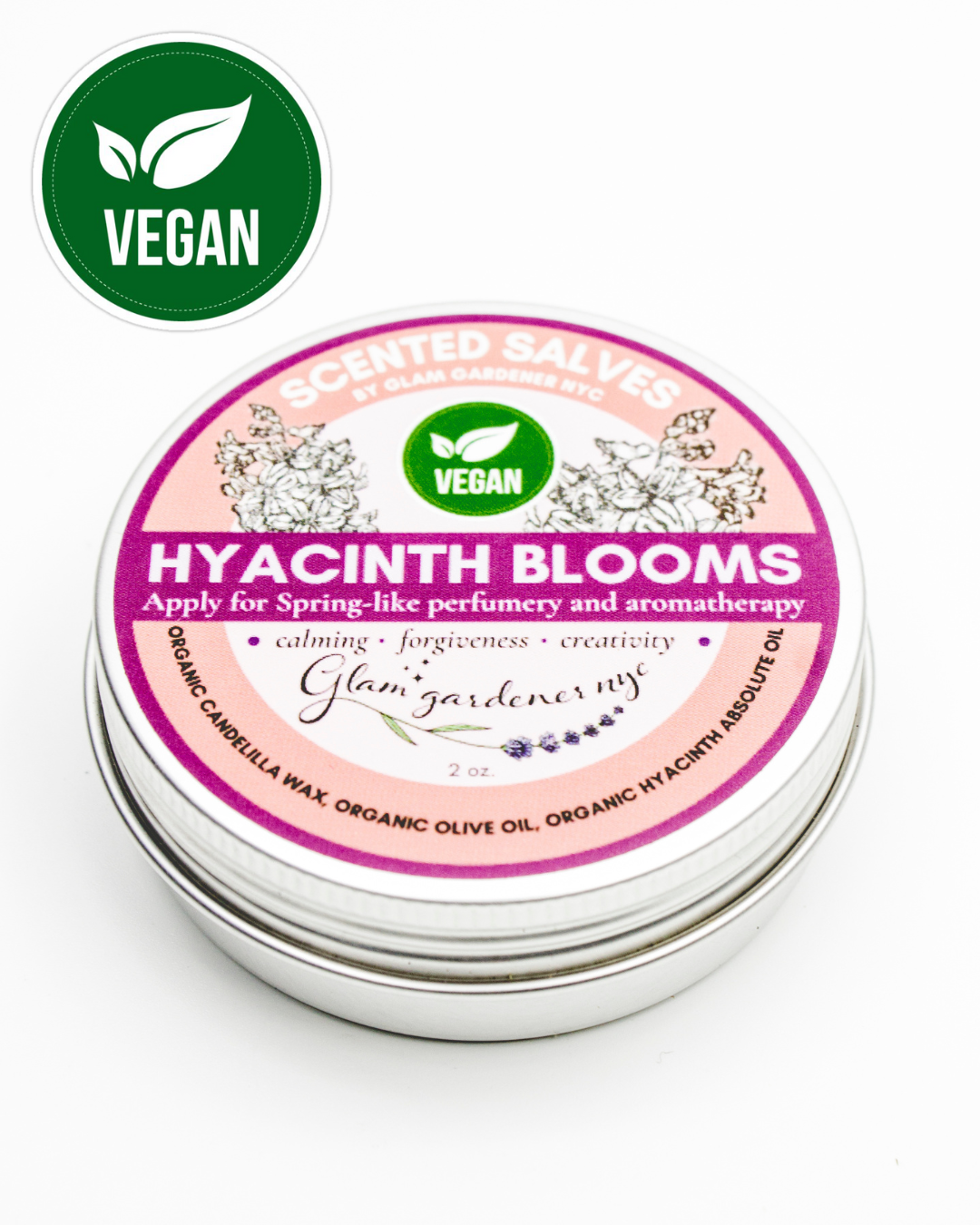 Hyacinth Blooms scented salve | natural solid perfume and healing lotion
Regular price
Sale price
$15.00 USD
Unit price
per
Sale
Sold out
Share
View full details