Regular price
Sale price
$15.00 USD
Unit price
per
Sale
Sold out
2 oz. salve
Handcrafted in New York with local and organic ingredients
Ingredients: Wild-harvested honeysuckle flowers, Organic olive oil, plant-based Candelilla wax, honeysuckle essential oil
100% plant-based ingredients and suitable for vegans
Sweet Nectar by Glam Gardener NYC is a scented salve that uses infused wild-harvested honeysuckles, organic olive oil, and plant-based candelilla wax to craft a natural solid perfume or healing lotion that can soothe inflamed or dry skin.
Its aroma may remind you of an early summer day when honeysuckle flowers just start to bloom and bless the air with their fragrant nectar, which lends them their unforgettable aroma.
What is honeysuckle and where does it come from? The honeysuckle flower grows on a twisting vine. These flowers bloom throughout Summer and produce sweet floral-smelling, edible, and healing blossoms. There are nearly 200 varieties of honeysuckle found throughout the world, close to 20 of them are native to North America. However, we harvest the edible and healing Japanese honeysuckle, which is invasive to our region of the United States.
The invasive Japanese honeysuckle first appeared in North America in the early 1800s when it was introduced as a decorative plant. These plants are so effective at spreading, because they quickly grow around other plants and small trees. We harvest their flowers and cure them into an infused oil to craft this blend. We harvest many invasive, but edible and medicinal plants across our product line.
What medicinal benefits does honeysuckle offer? Honeysuckle has a wide variety of uses, both medicinal and magical. Honeysuckle is one of the most widely used plants in Chinese herbal medicine. When taken orally, honeysuckle can be used for anything from breaking fevers to soothing inflammation and calming headaches.
However, when applied topically, honeysuckle works to soothe and protect irritated skin. It has been used to relieve rashes and eczema, as well as working to reduce general skin inflammation. The flowers also offer antibacterial properties when applied to cuts, scrapes, burns, and other small wounds. When applied to the skin honeysuckle can also be used to soothe poison ivy and poison oak! 
What about honeysuckle in magic? Honeysuckle has a wide variety of magical uses. Most often it is used as a sweetening component, which can be used to manifest romance, affection, and fidelity. Honeysuckle is also said to attract abundance and good fortune to the home. The blossoms of the honeysuckle plant also work as a strong psychic tool, making them great for divination and psychic enhancement. 

What makes the Sweet Nectar salve beneficial to you? Our honeysuckle-infused salve blends organic olive oil and plant-based candelilla wax to hydrate, soothe, repair, and protect the skin's delicate barrier. Olive oil is an effective and non-clogging moisturizer. The oil has been used on the skin for thousands of years to lock in moisture and repair dry skin. Olive oil also aids in maintaining the skin's healthy youthful appearance.
These ingredients work together to bring you the ultimate restorative salve that smells like a sweet early summer day. 
We always use organic olive oil and plant-based candelilla wax in our vegan scented salves.
How do you use scented salves by Glam Gardener NYC? Apply a small amount to the favorite parts of your body. We like to use it as hand lotion and apply to our chest, arms, and temples. 
Why choose scented salves by Glam Gardener NYC? Most perfumes and scented lotions are plain old nasty. They often contain harmful ingredients, unpronounceable chemicals, and substances that disrupt our body's natural processes. Glam Gardener NYC scented salves contain 100% natural ingredients that are often organic and locally sourced. Smell good, without the bad stuff.
Glam Gardener NYC offers free shipping on stickers, cards, and all orders over $50.
Share
Shipping

Orders are fulfilled through USPS. Please allow for standard shipping time, which is usually 1-5 business days.
Return policy

Glam Gardener NYC takes the upmost care in packaging your orders with love. If there is something wrong with your order, please email glamgardenernyc [at] gmail.com so that I can get to the bottom of the issue. Glam Gardener NYC is a one-woman shop, so your kindness and patience is appreciated.
View full details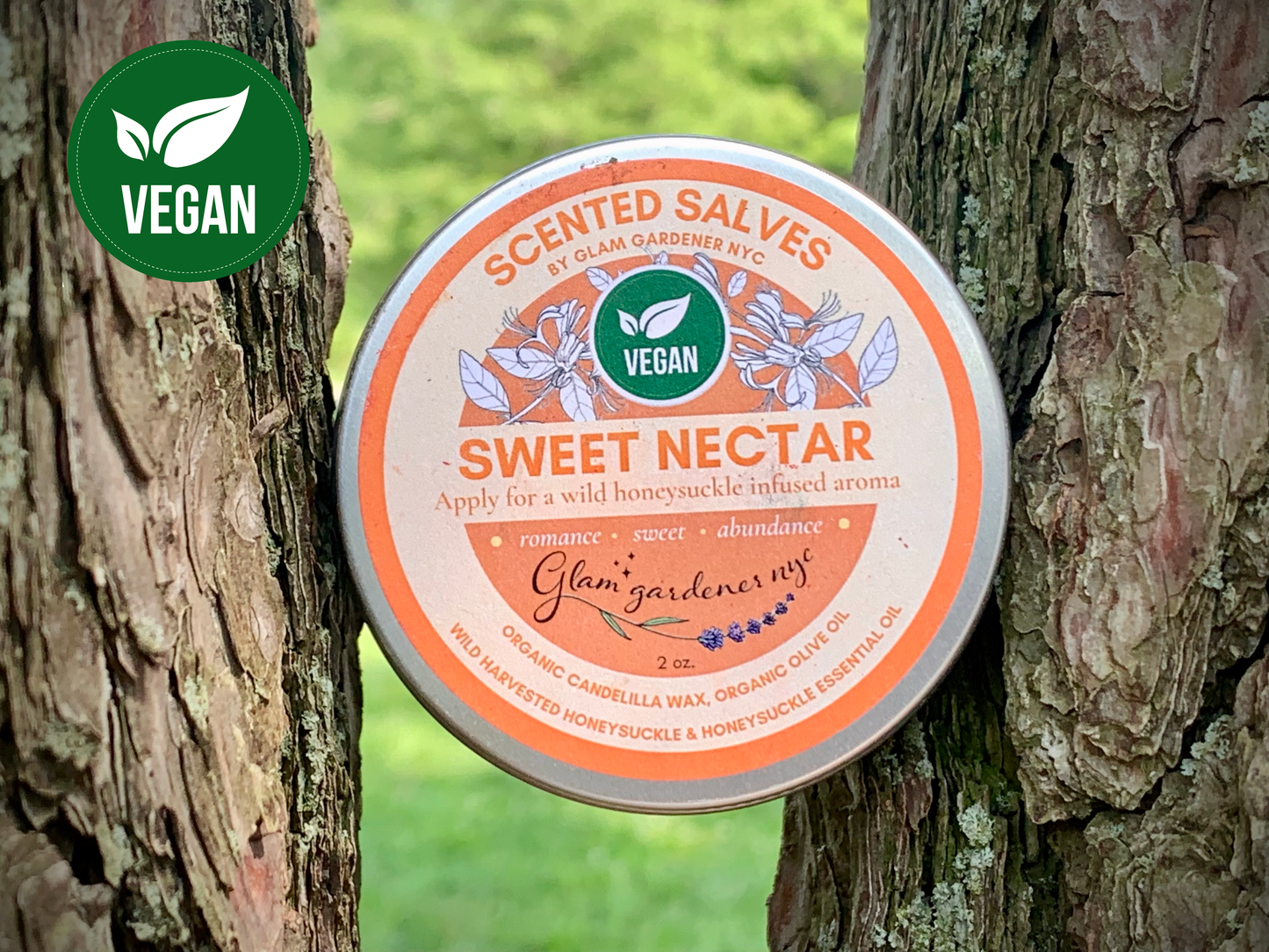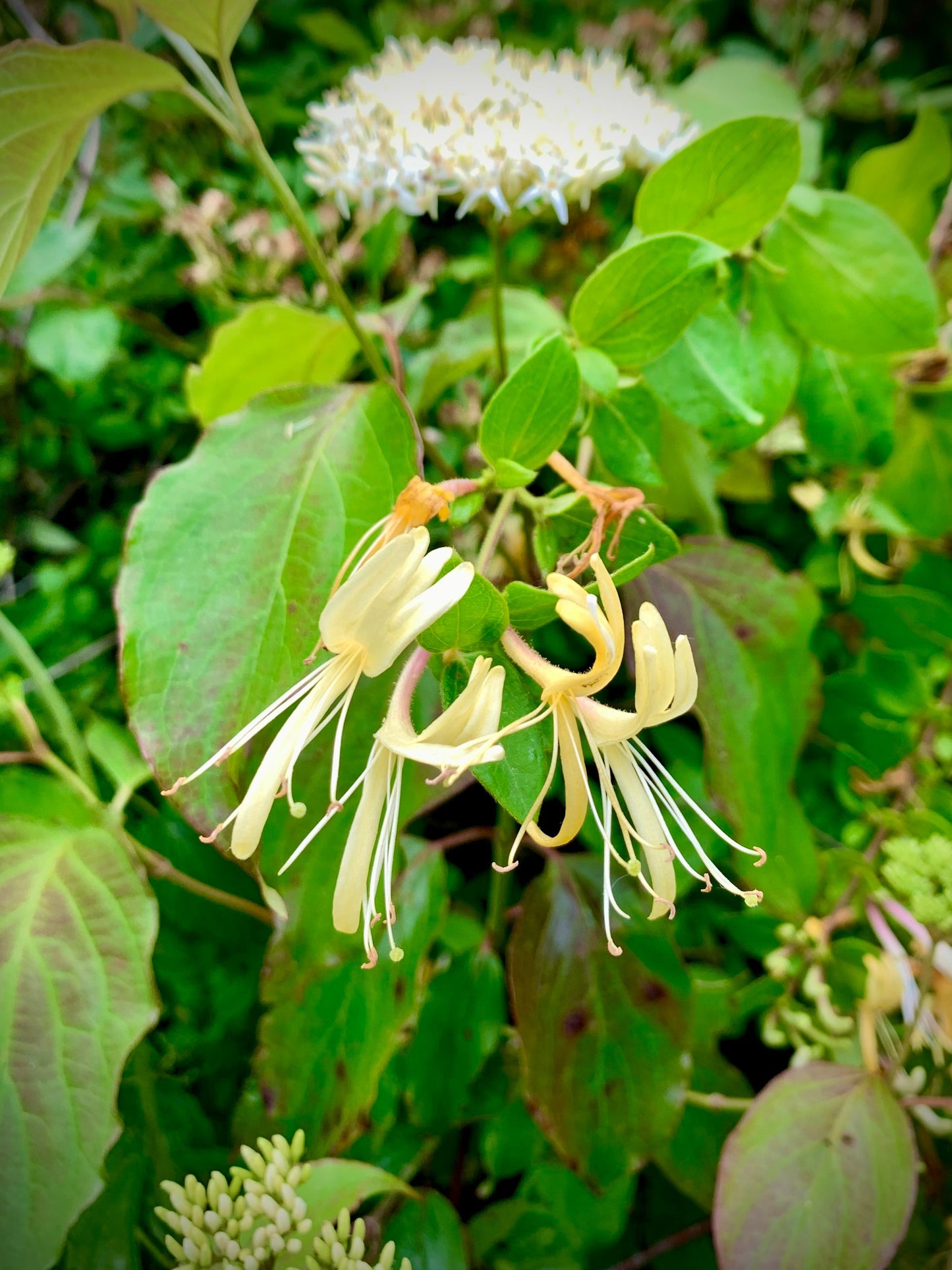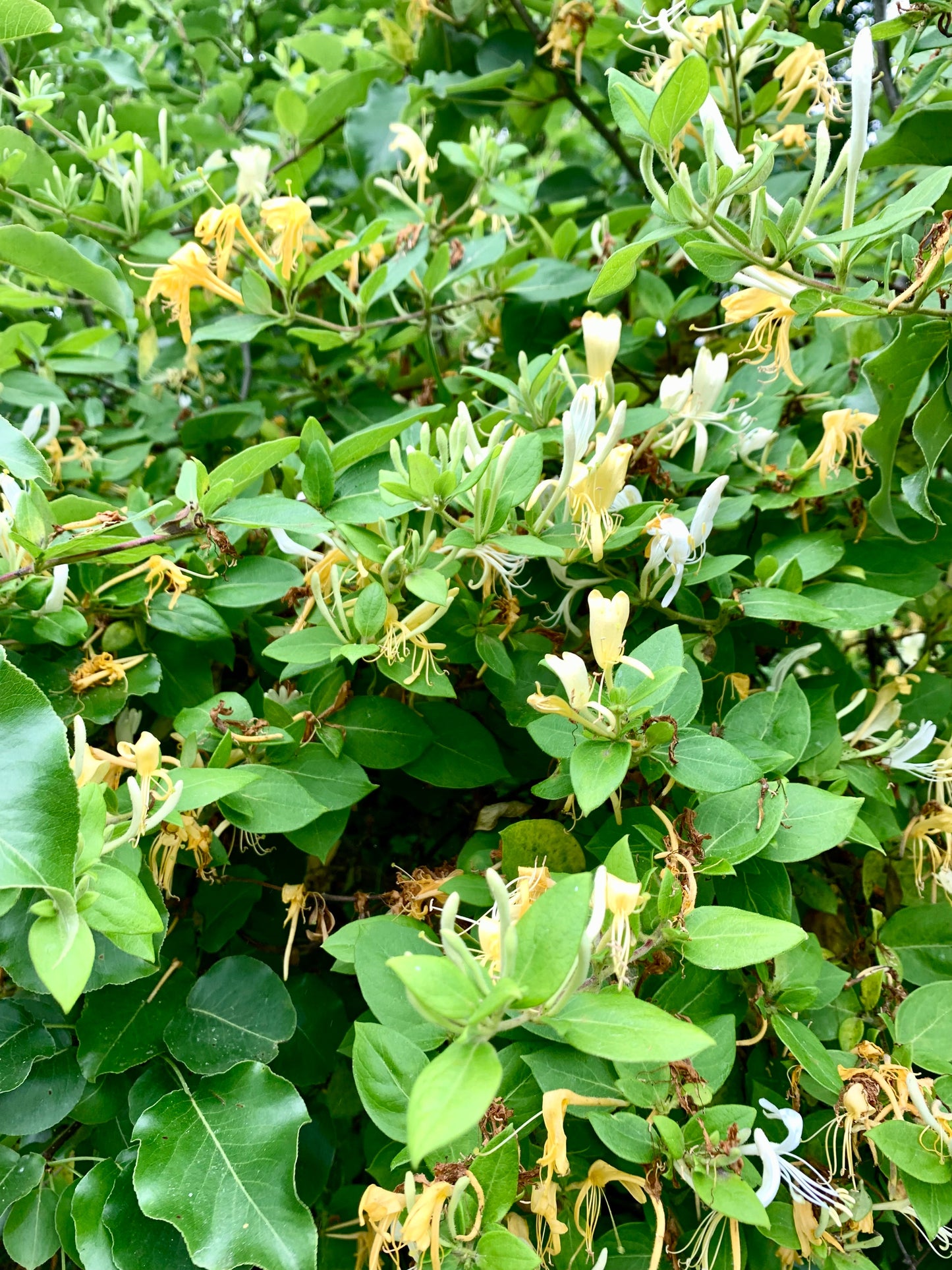 Sweet Nectar scented salve | natural solid perfume and healing lotion with wild-harvested honeysuckle flowers
Regular price
Sale price
$15.00 USD
Unit price
per
Sale
Sold out
Share
View full details