Regular price
Sale price
$15.00 USD
Unit price
per
Sale
Sold out
Wild-harvested Stinging Nettle, Wild-harvested Goldenrod Flowers, and Organic Chamomile
Wildcrafted and organic ingredients harvested in pristine forests or organic farms
15 individual bags of tea in compostable tea bags
Plastic-free packaging
Flavor notes: Tastes floral like chamomile tea with an herbaceous twist
This tea blend is packed with the highest quality of vitamins, minerals, antioxidants, and nutrients. It's designed to act as an anti-inflammatory while cleansing the body. Expect relief from allergies, congestion, and inflammation-driven pain from this blend.
Stinging nettle is a perennial flowering plant that has been used medicinally for ages, dating back as far as Ancient Greece. It's a superfood and common wild-edible used for various purposes. Its leaves and stems have typically been used to aid in breathing-related problems, including symptoms brought on by allergies. It contains Vitamins A, C, and K, as well as several B vitamins. It is also known to reduce inflammation and lower blood sugar.
Goldenrod is a gentle liver and urinary tract cleanser. It's been used to reduce pain and swelling from inflammation as well as a diuretic to induce cleansing and increase urine flow. This late summer / early fall flower has been touted for its ability to address allergy symptoms caused by fall blooms. Lastly, Goldenrod contains polyphenols, which are plant-based chemicals that often act as antioxidants.
Chamomile is a beloved flower known for its calming essence and spectacular flavor. It's commonly used to reduce blood pressure and pain while it promotes relaxation.
The wild-foraged plants in this blend were wild-foraged responsibly in clean & local forests (New York, New Jersey, Pennsylvania).
All of these plants' health benefits are well documented in many herbal books, both old and new, and are not intended to diagnose, treat, cure, or prevent any disease. Furthermore, these statements have not been evaluated by the food and drug administration. when in doubt consult your healthcare provider or a clinically trained herbalist. 
In addition to all the benefits listed, these plants have additional benefits, side effects, and interactions. Please do your own research before consuming. 
Scientific names of each plant are: Urtica dioica, Solidago, Matricaria chamomilla.
Glam Gardener NYC offers free shipping on stickers, cards, and all orders over $50.
Share
Shipping

Orders are fulfilled through USPS. Please allow for standard shipping time, which is usually 1-5 business days.
Return policy

Glam Gardener NYC takes the upmost care in packaging your orders with love. If there is something wrong with your order, please email glamgardenernyc [at] gmail.com so that I can get to the bottom of the issue. Glam Gardener NYC is a one-woman shop, so your kindness and patience is appreciated.
View full details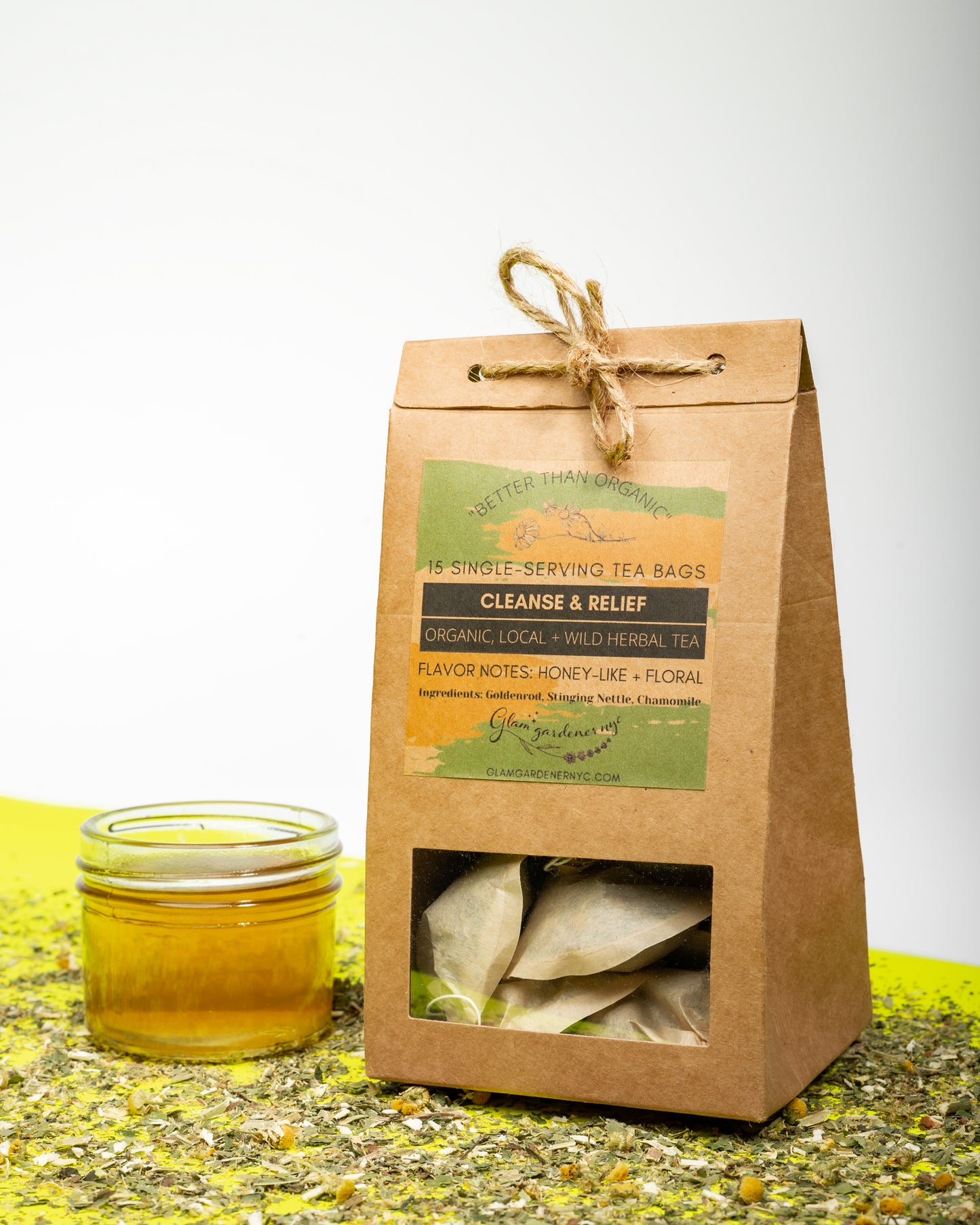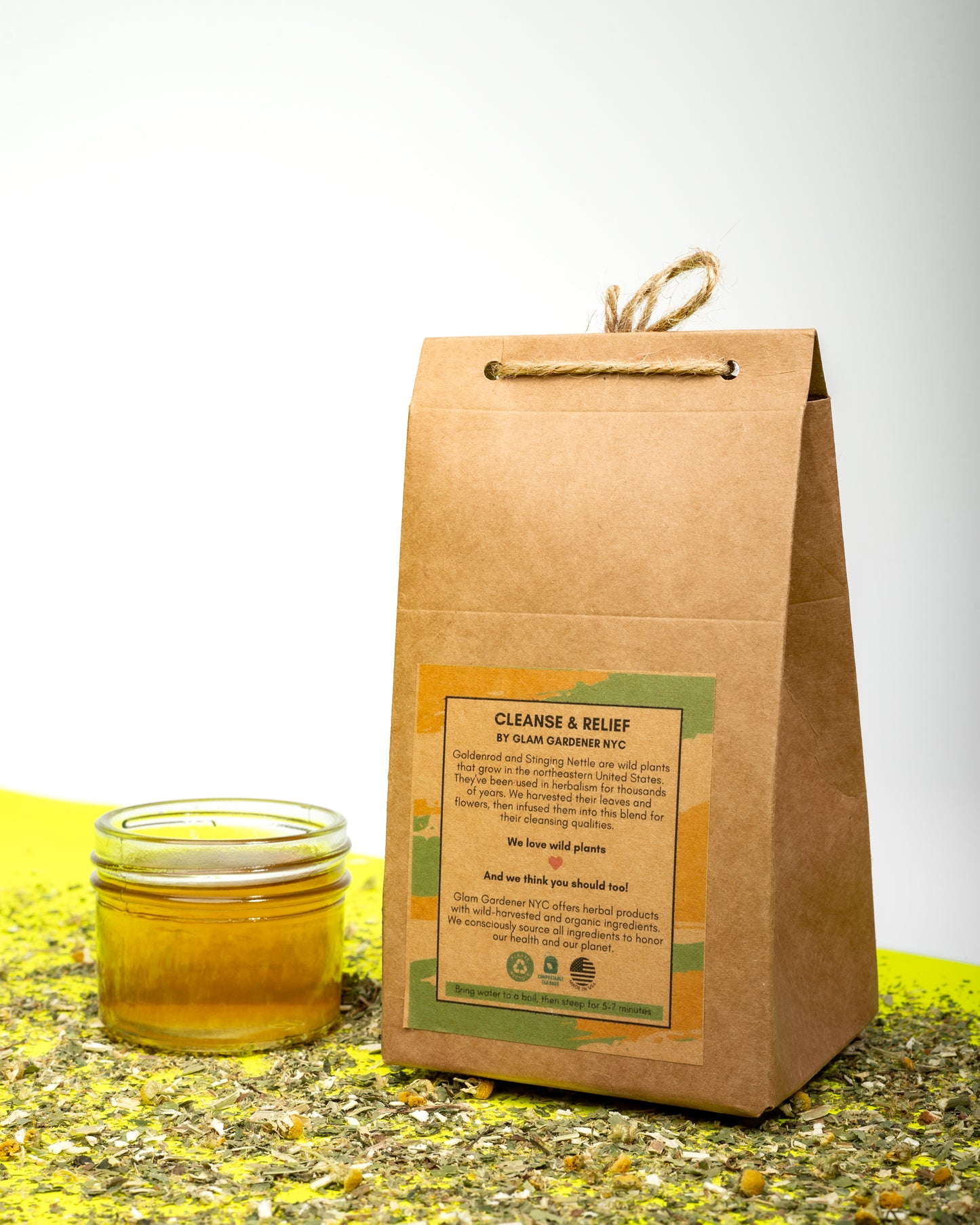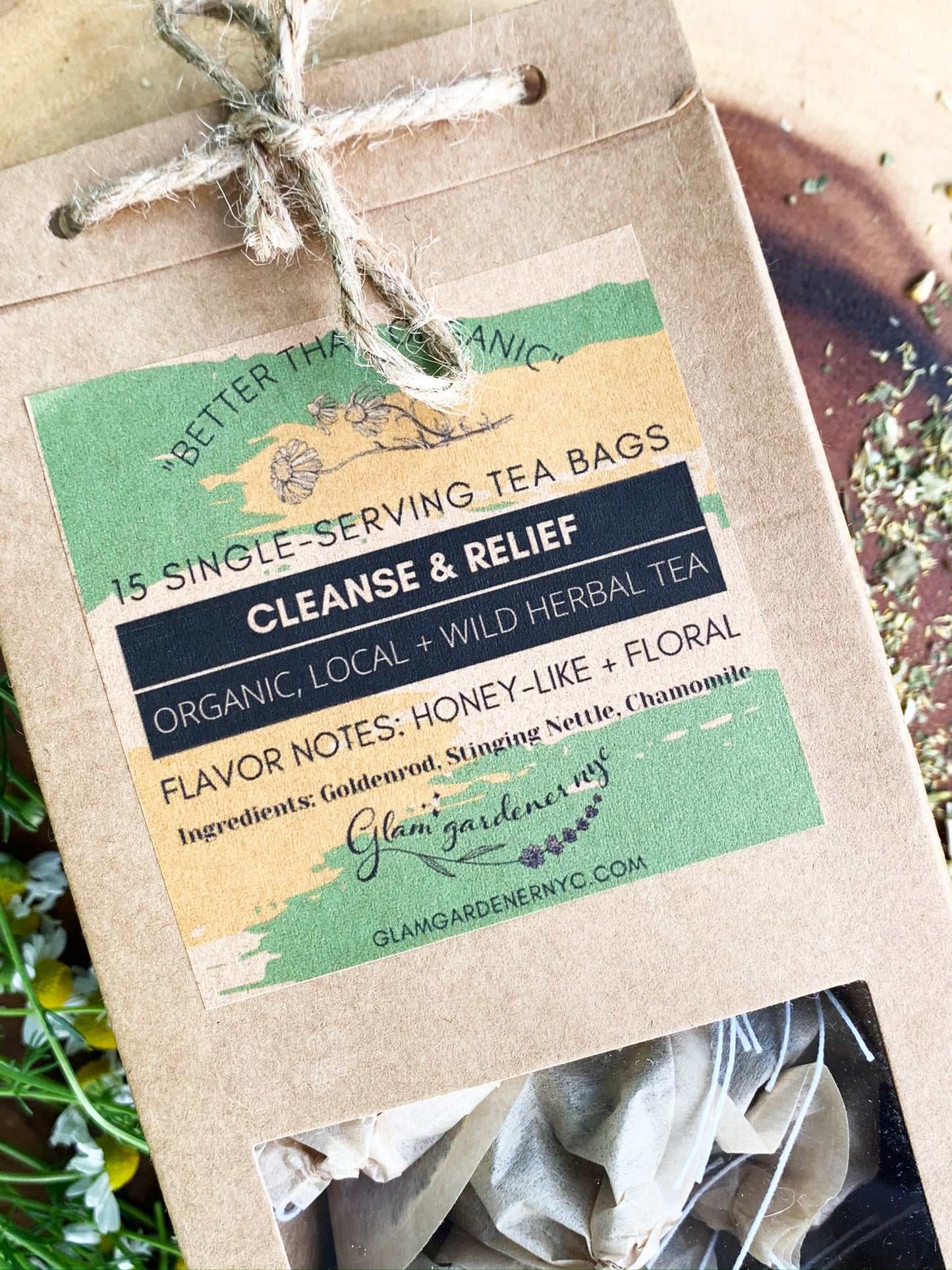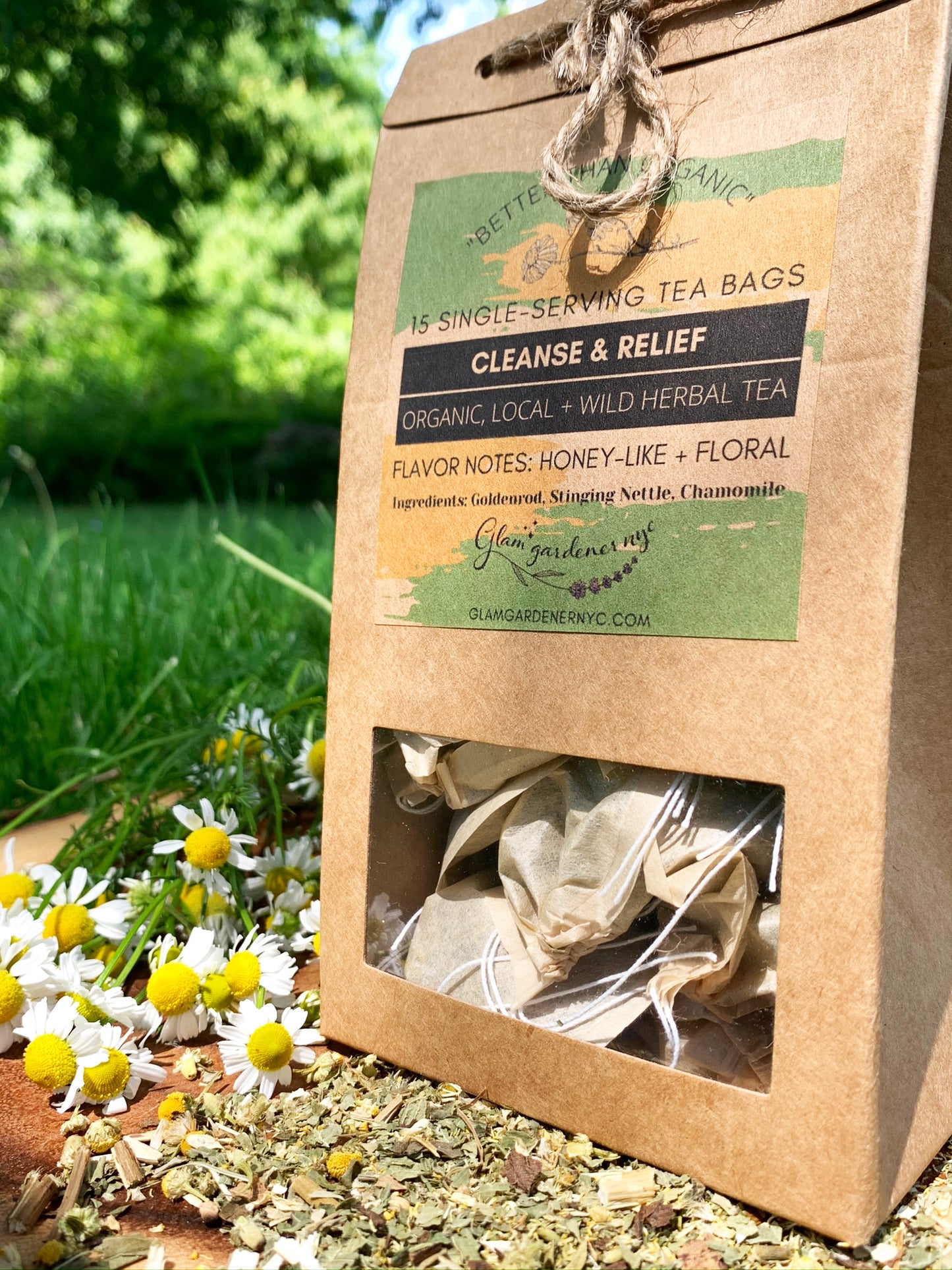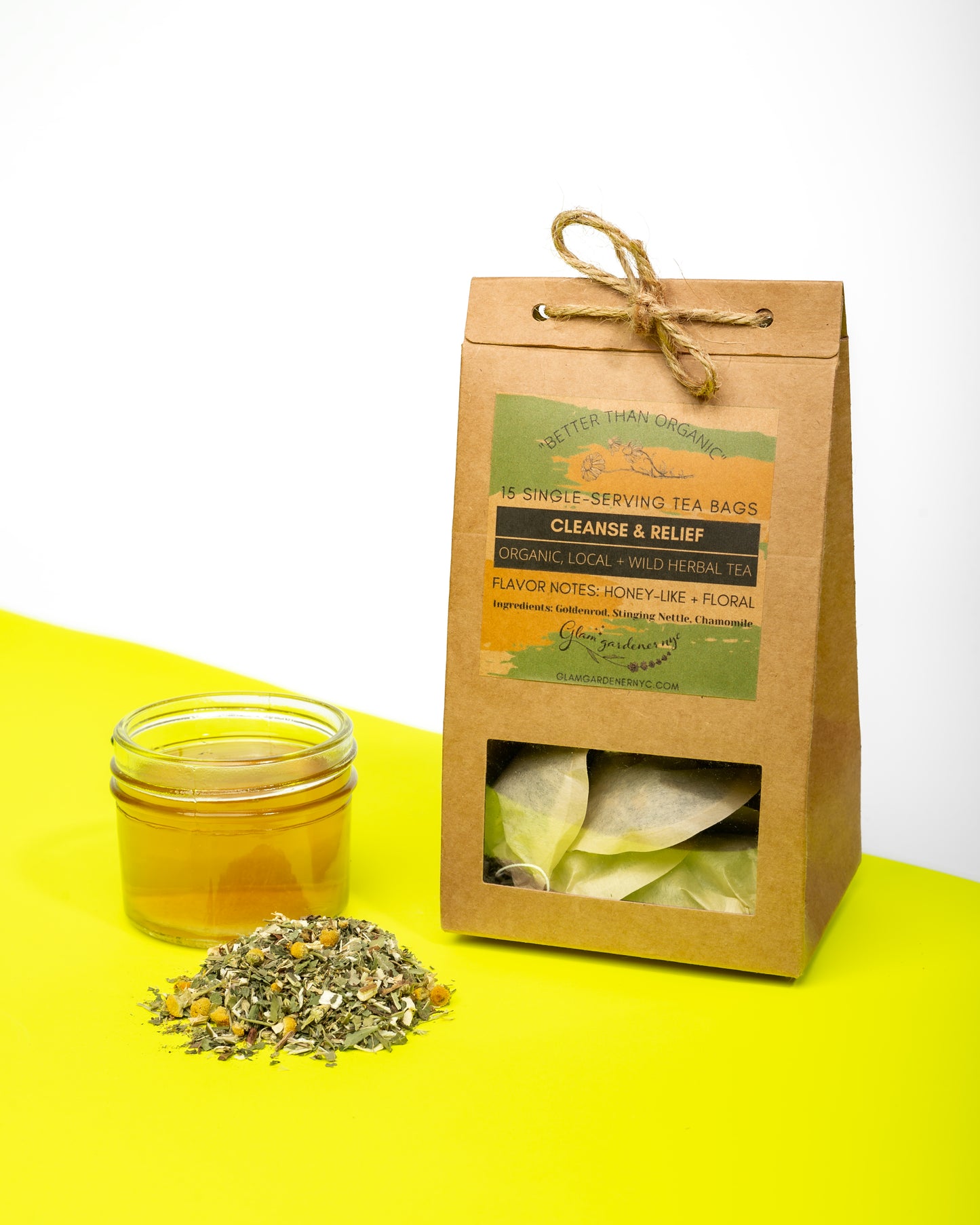 Cleanse + relief tea loose leaf herbal tea (designed to cleanse)
Regular price
$20.00 USD
Sale price
$18.00 USD
Unit price
per
Sale
Sold out
Share
View full details