Regular price
Sale price
$15.00 USD
Unit price
per
Sale
Sold out
Organic Damiana, Organic Cacao, Organic Red Rose Petals, Organic whole Stevia leaf

15 individual bags of tea in compostable tea bags
Flavor notes: tastes like a floral hot chocolate
This tea blend works to uplift your spirit with heart-opening and aphrodisiac plants: cacao and damiana. This blend is slightly caffeinated naturally from cacao and it also promotes focus. Drink with someone you love or alone to feel subtly uplifted with your heart open for a new day. Below are some of the common properties associated with each plant in this tea blend.
Damiana is an an herbal aphrodisiac that has been used to set the mood for centuries. It's used to promote an uplifting feeling throughout the body. It can heighten sensations of drive and arousal. This leaf offers a unique and addicting sweet earthy floral flavor to the tea blend.
Cacao
is the precursor for one of our favorite snacks: chocolate. Cacao
is the dried and fully fermented seed of Theobroma cacao plant. It's naturally 
caffeinated, incredibly medicinal, and packed with antioxidants. Cacao nibs offer a natural energy boost while also acting as a natural aphrodisiac. The complex unsweetened chocolatey flavor blends with the sweet floral notes of the tea, delivering a flavor reminiscent of a rosy hot chocolate.
Red rose petals have been a symbol of love since ancient times. Sweet, floral and aromatic. Just like cacao, rose is packed with healthy antioxidants that boost your immune system.
Whole leaf unprocessed Stevia
 leaves are naturally sweetened and incredibly potent. They offer a sweetness that balances the bitterness of cacao as well as the earthiness of
damiana
. As a natural sugar replacement it offers a healthier sweetening alternative than processed stevia or sugar.
All of these plants' health benefits are well documented in many herbal books, both old and new, and are not intended to diagnose, treat, cure, or prevent any disease. Furthermore, these statements have not been evaluated by the food and drug administration. when in doubt consult your healthcare provider or a clinically trained herbalist. 
In addition to all the benefits listed, these plants have additional benefits, side effects, and interactions. Please do your own research before consuming. 
Scientific names of each plant are: Turnera diffusa, Theobroma cacao, Rosa Centifolia, and Stevia rebaudiana.
Glam Gardener NYC offers free shipping on stickers, cards, and all orders over $50.
Share
Shipping

Orders are fulfilled through USPS. Please allow for standard shipping time, which is usually 1-5 business days.
Return policy

Glam Gardener NYC takes the upmost care in packaging your orders with love. If there is something wrong with your order, please email glamgardenernyc [at] gmail.com so that I can get to the bottom of the issue. Glam Gardener NYC is a one-woman shop, so your kindness and patience is appreciated.
View full details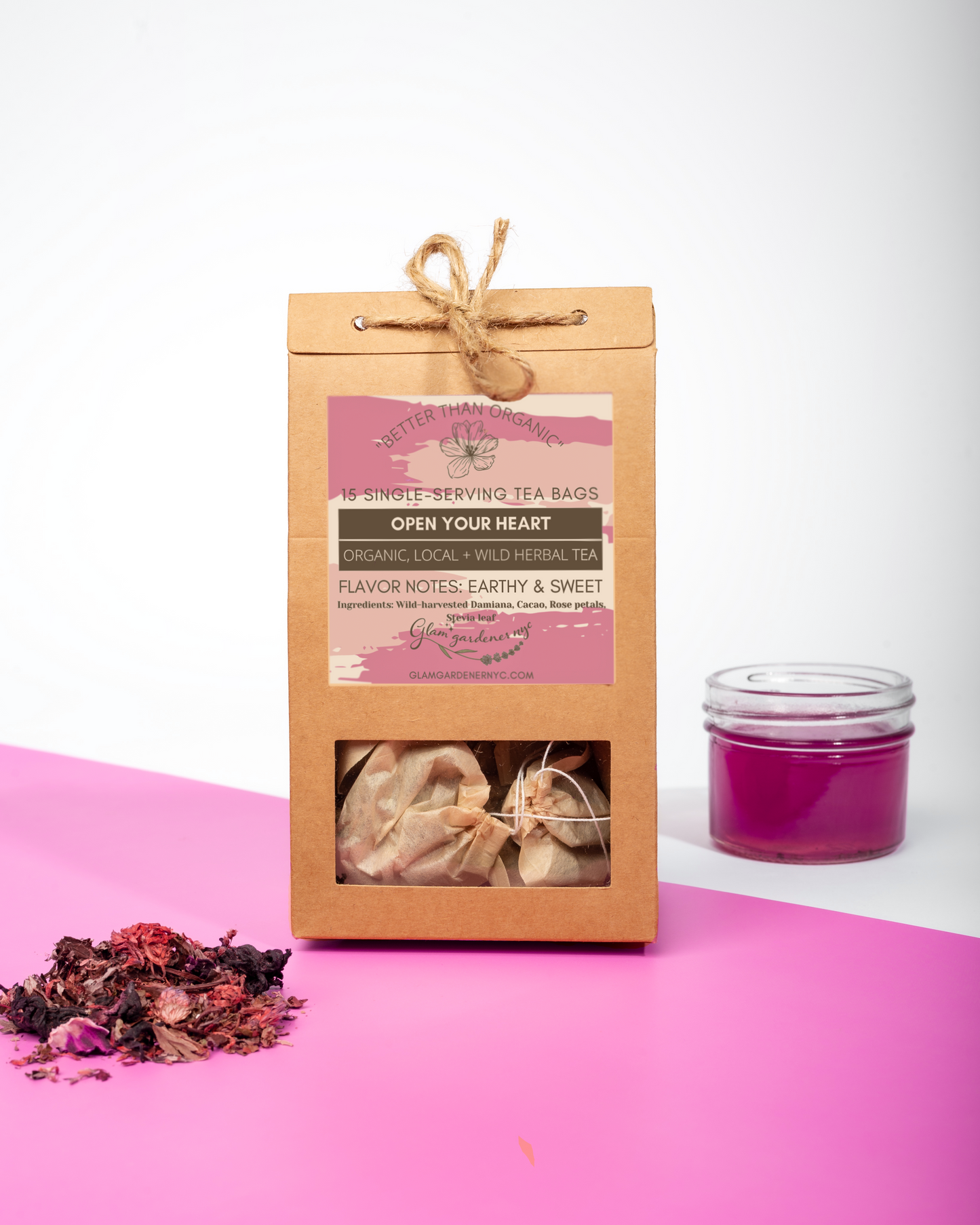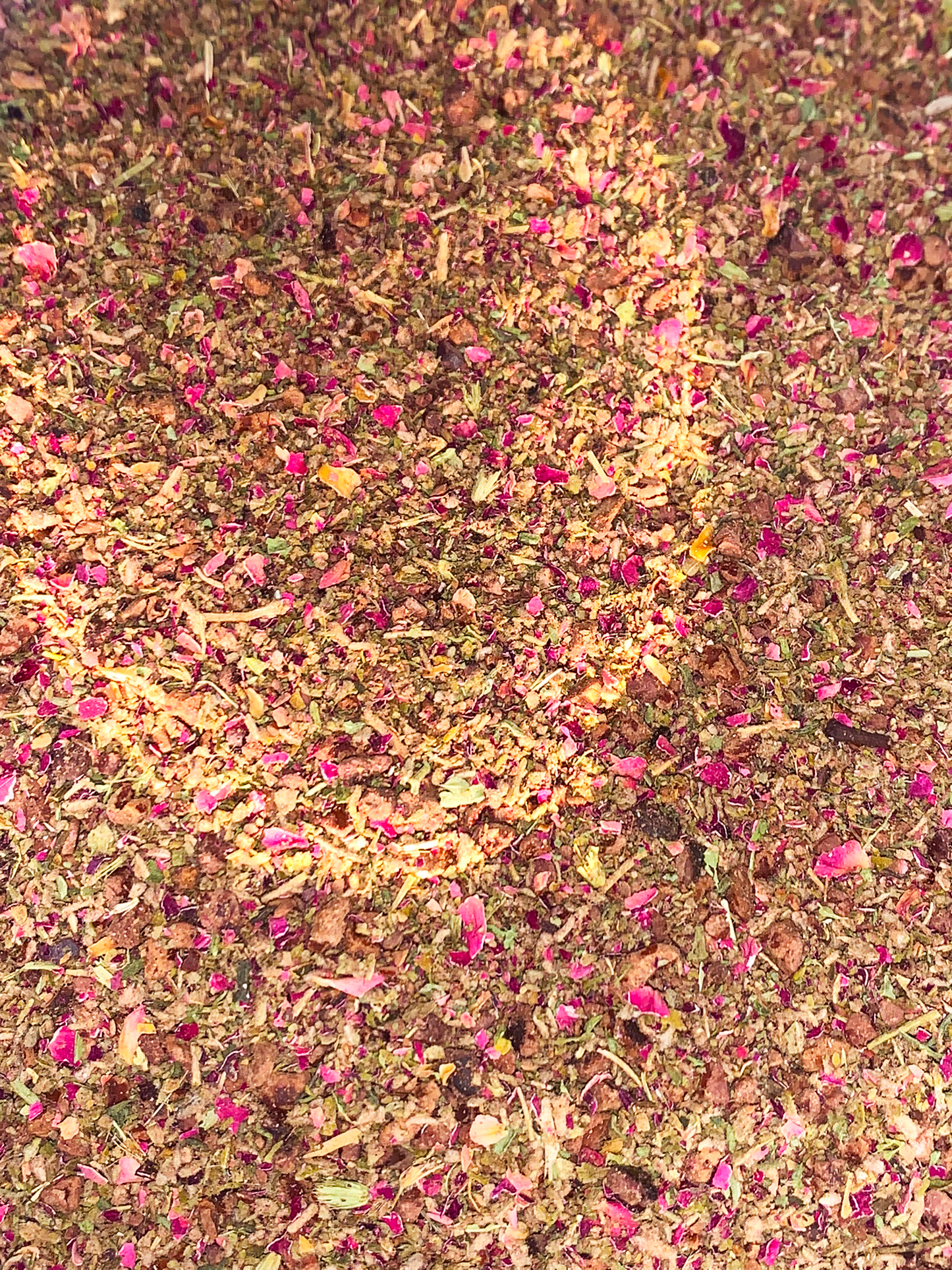 Open your heart loose herbal tea (designed to uplift and open your heart)
Regular price
$20.00 USD
Sale price
$18.00 USD
Unit price
per
Sale
Sold out
Share
View full details